The Feminine
Ecstasy Ebook
A Guide to Tantric Womb Healing
In Feminine Ecstasy you will learn how to…
Live a feminine-lead life
Embrace your relationship to sexuality and how it shapes your everyday life
Discover the nature of your womb and rewrite her story to embody your everyday life
Move through tantric rituals for nervous system and somatic healing
Heal and reclaim your sacred womanhood after trauma and hardship
Craft the art of harnessing your power and fulfilling your purpose as a sexual and sensual woman
Feminine Ecstasy is for women who long to feel whole in their sacred sexuality and deep self-intimacy.
Tantric rituals are the heart and soul of a woman's true nature. By immersing yourself in the wisdom of your womb, you will discover the deep intimacy of your feminine energy, and how to live an ecstatic life of love, leadership, and fulfillment. It is time to dive in, let's go ~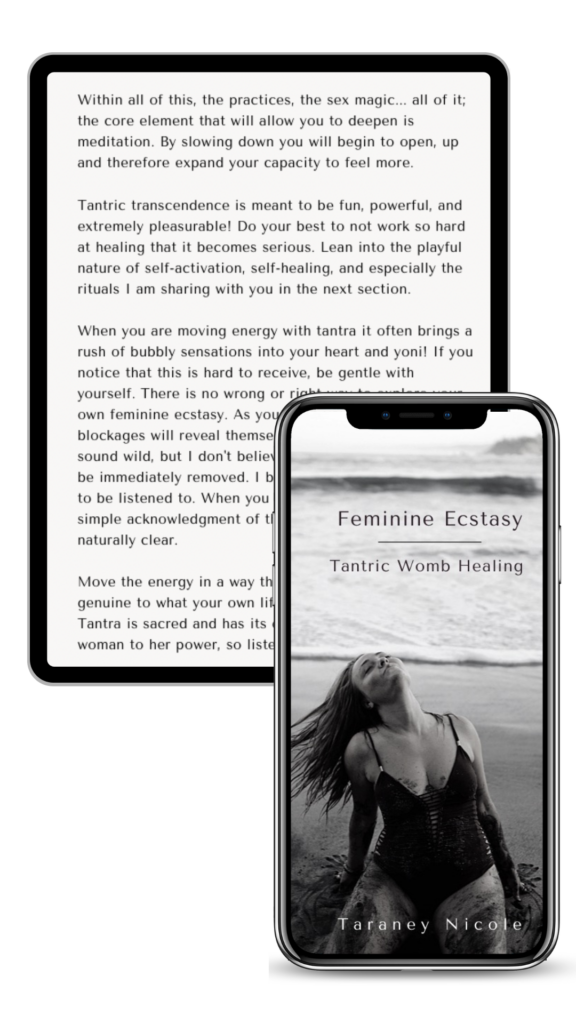 Tantric Philosophy meets deep somatic healing

This book is 75 pages of pure feminine wisdom. From the moment you purchase Feminine Ecstasy, you will be lead through an intimate awakening of your feminine power, pleasure, and purpose.



A perfect blend of contextual wisdom and deep feminine practice - this is so much more than an Ebook.

Page by page you will learn high-touch tantric rituals, sex-magic practices, and even my Body Mapping technique that I have only taught my private clients until now ~

Go ahead and begin exploring for yourself.