Sacred Feminine Mystery School
Venusian Mystery School & Global Sisterhood
The Vessel Mystery School is designed to support modern women in remembering their feminine soul's ancient roots as daughters of the Divine & the power of that.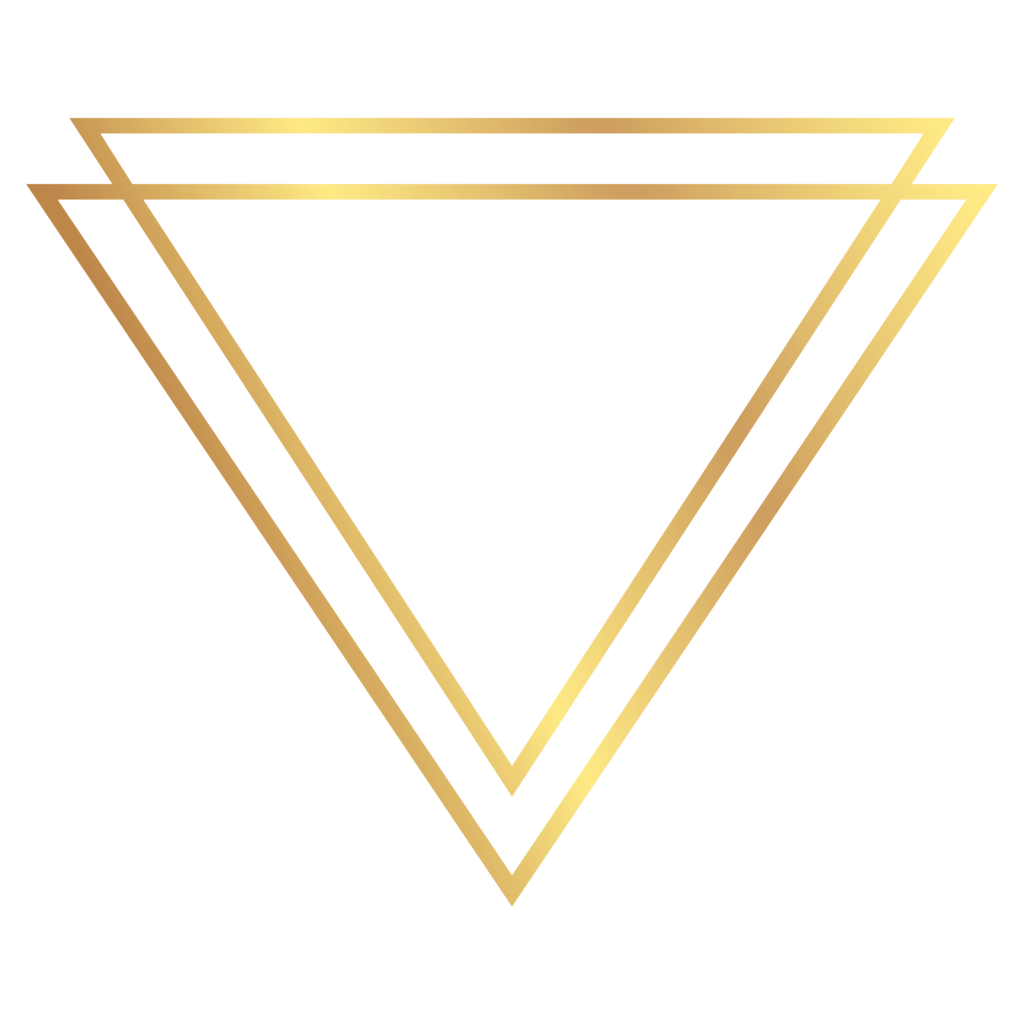 Where modern Oracles,
Priestesses & Mystics
come to deepen with
Ritual & Ceremonial Art's
Once you are aligned with the path of the Divine Mother, your true sacred feminine essence begins to emerge, and in this way, she begins to change everything. 
Obstacles are removed, knots are undone, and life begins to rewrite itself right before your eyes.
This is the power of the Feminine; she will always show you the way of your heart's deepest desires. She will always make the pathway possible because she knows that your care is the futures promise.
Within your womb are seeds that came here to be birthed by you. Make way for this to come true. Attune to your power. Deepen your pleasure by believing in your purpose as a Daughter of the Divine; now is your time.
This is The Vessel Mystery School.
What is The Vessel Mystery School?
The Vessel was born as a answered prayer.
Our Mystery School is devoted to being a sanctuary where women come to remember the ancient song of their feminine essence. Ceremony, Ritual, Mythos, & Medicine are our pathways of living as the ancient feminine now… 
In The Vessel Mystery School you will discover the power of engaging with the rites and rituals of the Sacred Feminine Art's. Whether it be in our live teaching sessions or seasonal ceremonies, we offer you practical guidance on how enhance the vitality of your life through the feminine mysteries.
As a Global Sisterhood, we value gathering women from all around the world as a way to create a genuine community that serves the web of life. It is in this way that The Vessel's foundation is built on the remembrance that all women are medicinal, and that no woman is more important than another. We value circular leadership with ample opportunities to share your medicine & shine your light.
At its core The Vessel is an organic blueprint for women to explore along their path as Priestesses, Oracles, & Mystics. Designed as a membership we offer you the freedom to join as your soul desires, and to complete your studies when best aligns for you.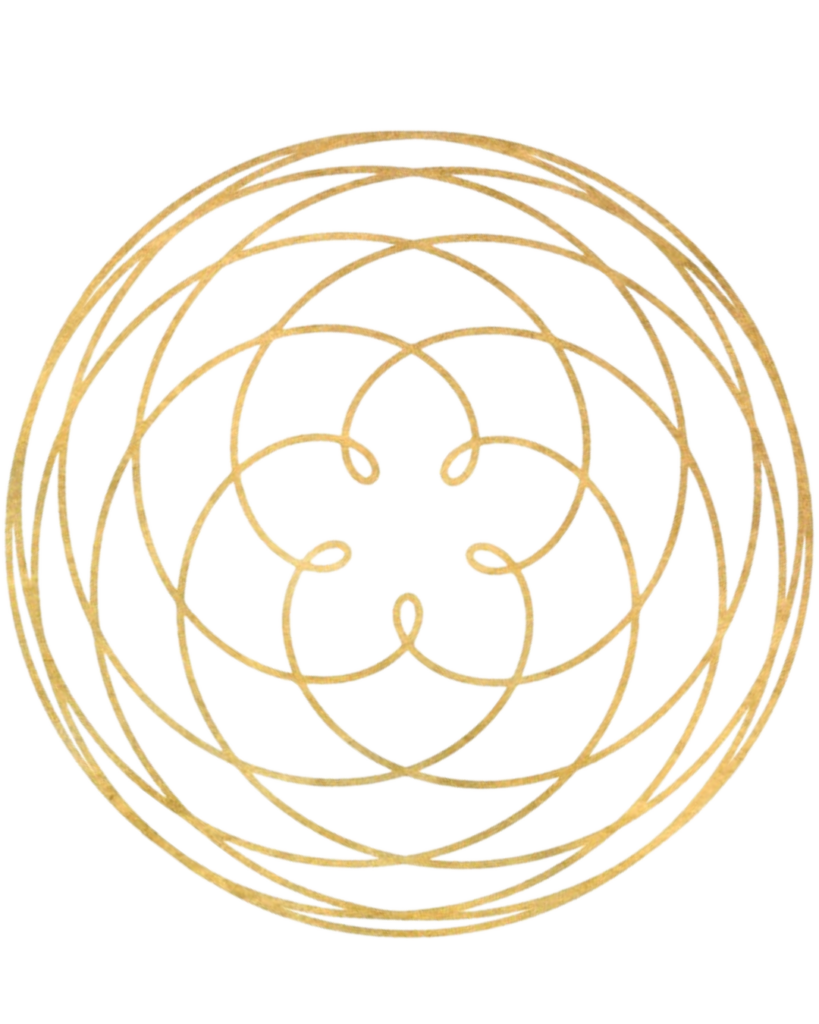 How will I receive the lessons?
The Vessel Mystery School is carefully crafted to bring you high-touch lessons in the easiest, and most digestible way possible. 
Monthly Lessons are shared on the 1st of every the month through our live (& recorded) calls. Each call is a mystery school transmission that is experiential and deeply activating. All of our calls are archived for you to access at any point during the year.
Seasonally we gather for virtual ceremonies that align with the wheel of the year as a way to practice ancient feminine rituals that initiate you deeper into the mysteries. 
Pre-recorded video lessons + practices are released at the turn of each Solstice and Equinox. These are designed to deepen your connection to specific rituals and themes that the mystery school is exploring…
Our intention is to make it as easy as possible for your to enjoy all that the mystery school has to offer in a way that meets your unique lifestyle with grace and ease.
Our well-designed community platform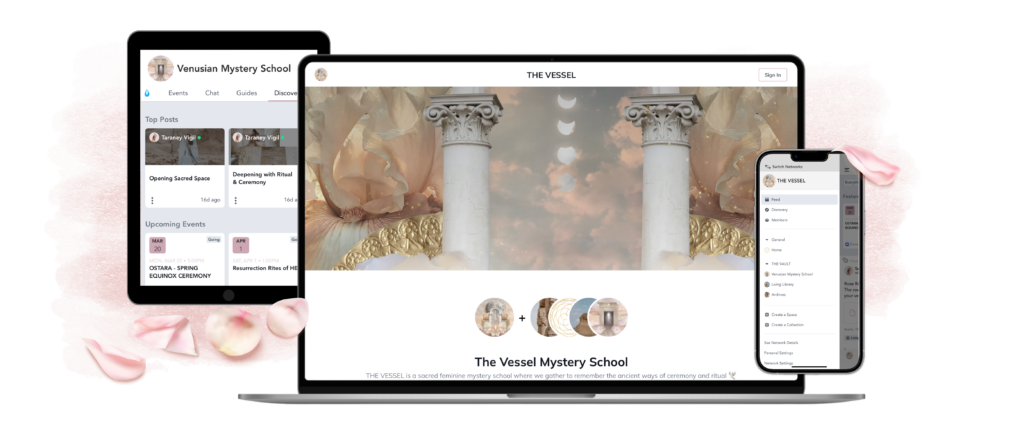 Wherever you are on Earth, you will always be able to connect with your Priestess sisters. Download our app for when you're on-the-go, or easily access The Vessel on your computer or tablet at home.
Your membership includes..
𐃢 Access to a global sisterhood of Oracles, Priestesses, & Mystics who are walking the sacred feminine path with you + calling you forward into your own radiance. You can connect with members based on geo-location to meet women who live near you, and even directly message them through our chat.
𐃢 Monthly live teaching transmissions that are recorded & archived for you to drop into at any time. This is a special opportunity to gather, ask questions, & explore the feminine mysteries as a community.
𐃢 High-touch content that is designed to initiate you into the feminine mysteries and sacred art's. This will deepen your unique medicine as a Priestess, Oracle, and Mystic.
𐃢 Granted entrance into our exquisite Wheel of the Year ceremonies that take place at each Equinox, Solstice, and midpoint of the season. 
𐃢 From the very moment you join The Vessel, you'll be granted instant access to our on-demand practices, rituals, & ceremonies within the Living Library.
𐃢 Exclusive invitations to in-person events & advance trainings as part of The Vessel Mystery School.
Ceremony is where The
Divine




meets the essence of your life
What will The Vessel Mystery School teach me?
In the Mystery School, you will learn the sacred feminine art's and how to deepen your own power, pleasure, & purpose through ritual and ceremony. This is a call forward into the depths of who you truly are. Know Thyself. We are interested in discovering the way of the Priestess through a genuine, oracular, and mystical lens. It is our desire to teach you what it truly means to walk a sacred, mystical path by granting you tools and resources that directly amplify your quality of life and the coherence you feel as a powerful woman.
The Vessel Mystery Schools specialty is in the roots of tantric feminine arts, ancient Egyptian cosmology, and the Lineage of the Rose. During your time of studying with us, you will discover the art of multidimensionality, how to calibrate your nervous system to hold more, heal past life + present life trauma, as well as activate your vessel to be the living prophet of the Divine Mother.
01. LIVE TRANSMISSIONS &
ACTIVATIONS
Each month we gather for a live teaching transmission on one specific topic within the feminine mysteries. All calls are recorded and archived for your personal records and enjoyment!
View this short clip of Taraney sharing a mystery school teaching on sacred sexuality…
A literally record keeper of all our best guided meditations, practices, rituals, & ceremonies for you to access on-demand ~ anytime and anywhere in the world.
There are dozens to explore, and this resource is always growing as we deepen with the mysteries ~ here is a preview video revealing the function of our library…
02, WHEEL OF THE YEAR CEREMONIES
Throughout the year we gather for ceremonies that are aligned with the cyclic nature of Gaia. With tangible practice of our mystery teachings, these live events are profound in their ability to steep you in the mystical world of ceremonial & ritual art's.
Our ceremonies are aligned with the wheel of the year, taking place at each Solstice, Equinox, & mid-point of the year :: (Dec. 21, Feb 2, March 20, May 1st, June 21, August 1…)
MARCH :: THE MYSTIC AND HER VESSEL
APRIL :: RESURRECTION RITES OF HER
MAY :: THE WELL SPRING WITHIN
JUNE :: ATTRACTING AS THE ROSE
JULY :: NECTAR OF THE HEART
AUGUST :: MILK, BLOOD, AND EROS
SEPTEMBER :: PRIESTESS OF THE UNKNOWN
OCTOBER :: VEILS & THE VOID
NOVEMBER :: FERTILE SOILS
DECEMBER :: AS ABOVE, SO BELOW
JANUARY :: OATHS & ORACLES
FEBRUARY :: VENUSIAN PRIESTESS RITES
Weaving ancient feminine wisdom
With real guidance & genuine rite of passage
Only want access to the Living Library?
Sometimes you're not in the season of deep study, but still need support with your sacred feminine energy~
This is why we have chosen to offer exclusive access to The Living Library!
You can subscribe to our on-demand records of the best practices, rituals, & ceremonies for your feminine energy for only $88 / month
The Living Library is a great way to deepen your priestess practices without committing to the Mystery School / Global Sisterhood elements of The Vessel
Meet your Mystery School teacher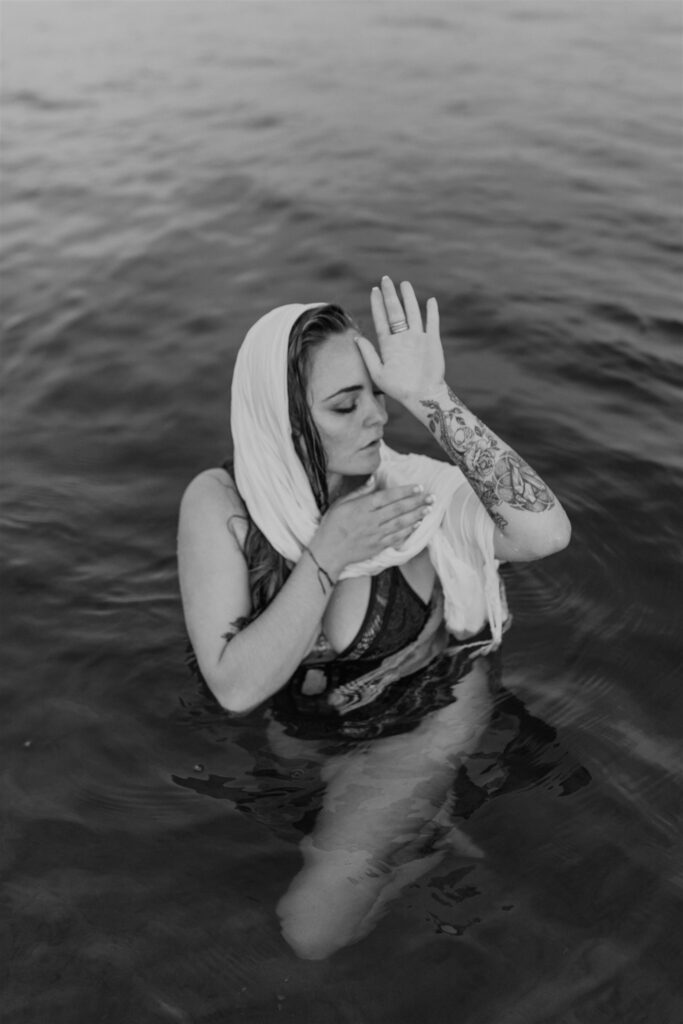 Divine Sister,
I am Taraney Nicole Vigil.
Ambassador of the DivineMother. Seeker of the sacred. Daughter of the water. Priestess of the Rose Lineage
All my life has been a ceremony to help me remember the ancient ways of womanhood, & like most women I too have a story that bleeds my innate capacity to persevere.
When I reflect upon my life I can clearly see that the Divine Mother was always there. In the darkest moments, she was watched over me as a silent guiding force. This is the force of the ancient feminine that led me to become who I am today.

I have faced the darkness of humanity. I am a survivor of rape, abuse, and deep ancestral trauma. My life's story is an ode to the unshakable faith that is womanhood. Through my rite of passages I have found my truth – I am a sovereign, self sourced woman who is not bound to her trauma, but rather the phoenix who rose from her darkest of nights ready to serve her greatest purpose.

My purpose is to support women in rekindling their connection to the sacred as a way to deepen their power, pleasure, & purpose.

I am honored to be sharing the Sacred Feminine Art's, and in this way I am beyond grateful to be your teacher in this life. Amen.
What is the Priestess Path?
The Priestess path is an ancient way of life that honors the feminines role in nature, and her innate capacity to divine, see, and create life through ceremonial magic. The Priestesses primary role is to be in devotion to the Divine through ceremonial and ritual practice. She is in communion with God / Goddess as a vessel for divine will, and her purpose is to be of service towards to betterment of humanity and life on Earth.
It is the Priestess that lays the energetic shifts that restore balance, and anchor the divine feminine frequency on Earth. A woman calls herself a Priestess when she is ready to acknowledge her experience of the sacred / spiritual elements of life. The Priestess path is deep and rich with prayer, activism, dedication, & radical self awareness. It is a path that will completely transform your life.
All Your Questions Answered
~ FAQ ~