Sacred Feminine Membership
Feminine Mystery School & Global Sisterhood
The Vessel is designed to support modern women in nourishing their feminine soul through self-guided practices, ceremonies, and masterclasses
Where Devotional Women
come to deepen with
Ritual & Ceremonial Art's
The feminine flourishes when she practices the art of devotional womanhood. The Vessel is here to be a sanctuary where you get to deepen with yourself & who you desire to be in the world. 
Devotional Womanhood is the experience of being deeply in-touch with your truth as a feminine soul. 
The depth of you sense of self is nurtured through Taraney's exquisite rituals, healing practices, and experiences that will teach you the nature of who you are as a powerful and pleasurable woman. 
Within The Vessel you will find dozens of somatic practices, guided meditations, womb healing rituals, + so much more! There are limitless ways to deepen your devotional womanhood within The Vessel Membership~
The Vessel was born as a answered prayer.
My high-value membership is devoted to being a sanctuary where women come to remember the ancient song of their feminine essence. Ceremony, Ritual, Mythos, & Medicine are our pathways of living as the ancient feminine now… 
In The Vessel you will discover the power of engaging with the rites and rituals of the Sacred Feminine Art's. Whether it be in our archives of masterclasses or the living library – we offer you practical guidance on how enhance the vitality of your life through the feminine mysteries.
As a Global Sisterhood, we value gathering women from all around the world as a way to create a genuine community that serves the web of life. It is in this way that The Vessel's foundation is built on the remembrance that all women are medicinal, and that no woman is more important than another. We value circular leadership with ample opportunities to share your medicine & shine your light.
At its core The Vessel is a sanctuary for women to explore along their path as sacred women. We explore what it means to be genuine Priestesses, Oracles, & Mystics. Designed as a online membership we offer you the freedom to join as your soul desires, and to complete your studies when best aligns for you.
Your membership includes..
𐃢 Access to a global sisterhood of Oracles, Priestesses, & Mystics who are walking the sacred feminine path with you + calling you forward into your own radiance. You can connect with members based on geo-location to meet women who live near you, and even directly message them through our chat.
𐃢 From the very moment you join The Vessel, you'll be granted instant access to our on-demand practices, rituals, & ceremonies within the Living Library.
𐃢 Recordings of all of Taraney's past masterclasses and digital lesson through our archive section. 
𐃢 High-touch content *articles, e-books, videos lessons* that are designed to teach you the feminine way of devotional womanhood. 
𐃢 Granted entrance into our exquisite retreats, ceremonies, and trainings at a special discounted price. 
𐃢 A safe and sacred place to express yourself, share you gifts, and get to know other powerful women who are on the same path as you.
𐃢 Spontaneous online circles to deepen with Taraney & the medicine of The Vessel.
Ceremony is where The
Divine




meets the essence of your life
What will The Vessel teach me?
In our beloved membership, you will learn the sacred feminine art's and how to deepen your own power, pleasure, & purpose through ritual and ceremony. 
As a self-paces membership, you have the gift to go in and explore the specific areas that interest you the most! Taraney has teachings within The Vessel on Womb Healing, the Rose Lineage, gaining self-confidence, romance & relationship, etc. Just about every pillar of the feminine way of life can be studied through this membership..
The Vessel specialty is in the roots of tantric feminine arts, ancient Egyptian cosmology, and the Lineage of the Rose. During your time of studying with us, you will discover the art of multidimensionality, how to calibrate your nervous system to hold more, heal past life + present life trauma, as well as activate your vessel to be the living vessel for the Divine Feminine.
01. TRANSMISSIONS &
MASTERCLASSES
Taraney has shared dozens of online classes on topics ranging from feminine wealth, embodiment, and healing. As a member you have exclusive access to the recordings! Which is priceless in its value.
 All calls are recorded and archived for your personal records and enjoyment!
View this short clip of Taraney sharing a mystery school teaching on sacred sexuality…
A literally record keeper of all our best guided meditations, practices, rituals, & ceremonies for you to access on-demand ~ anytime and anywhere in the world.
There are dozens to explore, and this resource is always growing as we deepen with the mysteries ~ here is a preview video revealing the function of our library…
Throughout the year we gather for sister circles and spontaneous virtual ceremonies! These are an opportunity for you to experience Taraney in real-time & practice the devotional, sacred feminine art's with her.
Here is a recording from our Spring Equinox Ceremony!
Sister, you are so sacred. I hope that you have not forgotten. I hope that you wake every single day, feeling your devotion to the woman you wish to become. She is here. Sacred Woman, you are a vessel. Your womb holds the potential to birth it all. Allow yourself to be pours for divine embodiment. I invite you to go inward - cleanse, heal, listen... find her, & worship. It is time to become the woman who is so deeply devoted to the feminine way that it radiates from her essence & strengthens all that she does with her wild and beautiful life.
Sometimes you're not in the season of deep study, but still need support with your sacred feminine energy~ 
This is why we have chosen to create an exclusive library filled with dozens of somatic healing rituals for women.
When you subscribe, you will have instant access to our on-demand recordings of the best practices, rituals, & ceremonies for your feminine energy for only $33 / month
The Living Library is a great way to deepen your personal practices while having the opportunity to tap into guided journeys exactly when you need them!
Meet your Mystery School teacher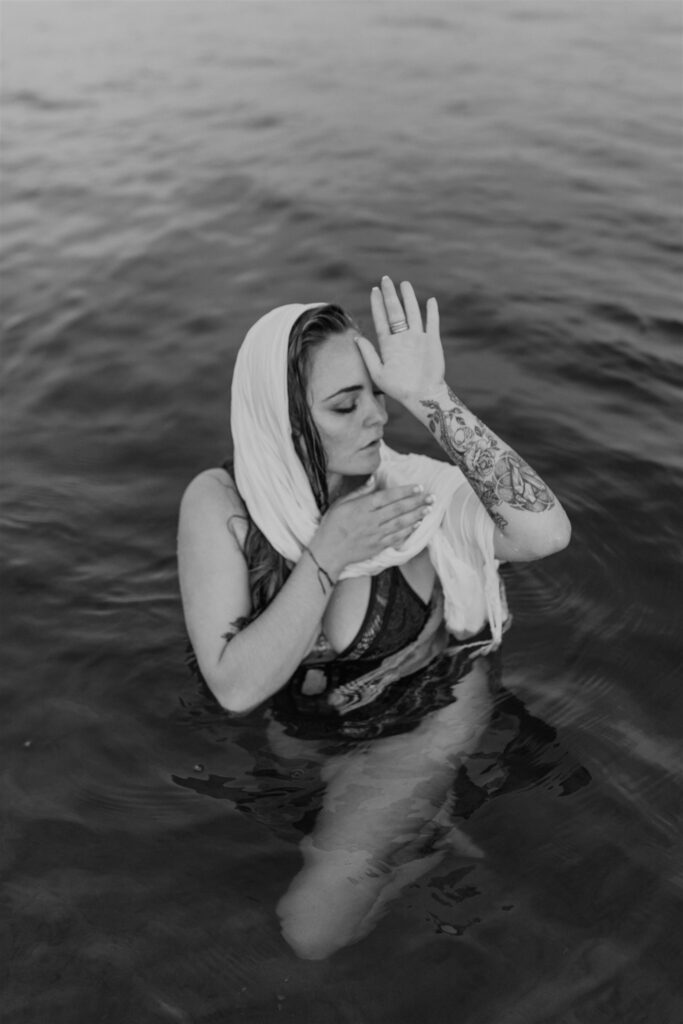 Divine Sister,
I am Taraney Nicole Vigil.
Daughter of the Sacred Feminine. 
I see my work as a way for sisters to enter their Devotional Womanhood.
My life is a ceremony. I am devoted to helping women remember reclaim their connection to being powerful, pleasurable women! 
I am a survivor of rape, abuse, and deep ancestral trauma. My life's story is an ode to the unshakable faith that is womanhood. Through my rite of passages I have found my truth – I am a sovereign, self sourced woman who is not bound to her trauma, but rather the phoenix who rose from her darkest of nights ready to serve her greatest purpose.

My purpose is to support women in rekindling their connection to the sacred as a way to deepen their power, pleasure, & purpose.
I do this through my online membership, The Vessel, as well as 1:1 coaching, womb healing sessions, and in-person retreats! 
I am honored to be sharing the Sacred Feminine Art's, and in this way I am beyond grateful to be your teacher in this life.
xxx, Taraney Nicole
What is the Priestess Path?
The Priestess path is an ancient way of life that honors the feminines role in nature, and her innate capacity to divine, see, and create life through ceremonial magic. The Priestesses primary role is to be in devotion to the Divine through ceremonial and ritual practice. She is in communion with God / Goddess as a vessel for divine will, and her purpose is to be of service towards to betterment of humanity and life on Earth.
It is the Priestess that lays the energetic shifts that restore balance, and anchor the divine feminine frequency on Earth. A woman calls herself a Priestess when she is ready to acknowledge her experience of the sacred / spiritual elements of life. The Priestess path is deep and rich with prayer, activism, dedication, & radical self awareness. It is a path that will completely transform your life.
All Your Questions Answered
~ FAQ ~