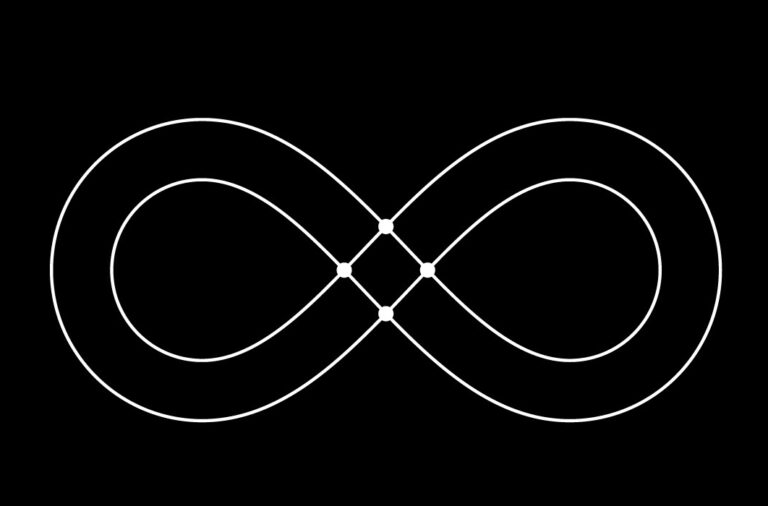 A divine cohort for medicine women to anchor their gifts & share them with the world
100% live & devoted to feminine business

In MEDICINE KEEPERS you will…
1. Learn how to build a relationship with your business while honoring your divine gifts
2. Develop a deeper level of intimacy with your medicine; in other words get to know her true blueprint for business & altruistic actions
3. Allowing yourself to grow into the embodiment of Medicine Keeper by sharing your gift's in a way that touches the heart of humanity
4. Heal the core wound of your abundance issues as an independent + sovereign healer, mentor, & medicine woman.
5. Define clear language around your medicine & how it is here to nourish the Earth Mother
"I have had the pleasure of working with Taraney one-on-on, have joined her retreats, & online programs - including the Creatrix Codes. She is truly a beautiful bridge between our bodies and our divinity. She has been supportive, uplifting and has known when to gently nudge women towards their own highest version. My life has forever been touched in the most beautiful way by her magic. Know that when you cross into her waters, you will be renewed and activated. You will be seen, heard, and held. Get ready for change and growth!"
TRUST ME WHEN I SAY "THEY ARE READY FOR YOUR MEDICINE" & TRUST ME, WHEN YOU FEEL IT ~ THEY WILL RECOGNIZE IT
0 | MONEY, MISSION, & MESSAGE
1 | THE PATH IS CHOOSING YOU
2 | YOUR LINEAGE IS YOUR LEGACY
3 | YOUR MEDICINE SPEAKS – LET IT
4 | EMBODYING SHE WHO KNOWS
5 | WEAVING WITH INTEGRITY
6 | CRYSTALIZE THE VISION
7 | OFFERING TO THE WEB OF LIFE
8 | LANDING IN YOUR GOLDEN DE$INY
DO YOUR FIND YOURSELF wanting to share your medicine in a more grounded & prosperous way, but you're not sure how?
Beloved One, you were born to fulfill a prophecy.
Feel that now.
Earth welcomed you here to be a healer for her awakening world. She chose you. This mission of being a medicine woman is not easy. With all the fractures of humanity and this patriarchal society we grew up in… it takes deep work & devotion to rise into the Medicine Woman. It will take guts, direction, true discernment to embody the path that Earth is calling you into, & you don't have to do it alone.
The call into the Medicine Woman is an initiatory path. In ancient times mystery school once thrived as elders took initiates under their wings to show them the rites of being a healer for humanity. When we hear the call to walk this path, it is important to find our way into modern mystery schools and communities that support us to thrive as Medicine Keepers.
All around the world Medicine Keepers are rising into their mission at light speed. This is a prophecy that our ancient ones have spoke to for eons. The time is now. Many of us have been training for this lifetime way beyond this incarnation and are in desperate need for guidance on how to integrate their ancient wisdom here now. If this is you, keep following.
The truth is, THIS IS THE LIFETIME YOU HAVE BEEN WAITING FOR.
These are the TIME OF TIMES.
Where it all comes together, and we het to lead the world into a new paradigm.
I crave to see more women taking the position as Medicine Women. This is a skill that must be implemented with integrity and deep devotion. There are rites in the world of healing, and as someone that has integrated this path of serving medicine for 6+ years, I am confident in my ability to lead you into the rise of your role as a Medicine Woman with pristine energetics.
So my darling, do you have gifts that you are ready to share with the world? Are you ready to integrate your gifts into a body of work that makes you money and fulfills your hearts desires?
What if I told you that you can support hundreds, even thousands of people by simply mastering yourself as a Medicine Keeper? I let you to know that you will make great money doing really great work by simply showing us to channel, feel, and heal. You will receive the most wealthy path when you embody the way of the Medicine Keeper – it is inherent. This is my vision for you, beloved.
This is the life I breathe every single day, and I want nothing more that for you to meet me here and higher.
FOR NINE WEEKS YOU WILL RECEIVE
These recordings are adorned with wisdom that will forever change the way you relate to your business. From the depths of my medicine I will share with you divine wisdom teachings + embodiment practices, stories, & the extra special Q&A opportunity
ACTIVATIONS + SPECIAL BONUSES
One of the grater gifts of joining this course is that you get to receive from Taraney in honor of your soul-centered business &&& you also get to be activated by her medicine. Somatic literacy & vibration medicine are the focus for the MEDICINE KEEPERS special bonus's journeys.
As the Medicine Women of this world, we hold a mysterious and very influential energy, and when that energy is nourished, it allows ever single pillar of our life on Earth to flourish with abundance.
I want to teach you how to be a Medicine Keeper. One who leads in her expertise and can sustain people pouring in from all directions to receive her gifts, healings, and deeply supportive medicine.
Sister, I invite you to join me on this journey of anchoring your Medicine Keeper Codex. Learn how to feed + nourish your medicine work in a way that is deeply feminine and 100% inspired by my thriving soul-lead business! Your medicine work is here to offer you a legacy of prosperity, grace, and skillfulness.
Let's do this.
THE WORLD IS READY FOR THE HEALING YOU CAME HERE TO SERVE… THE QUESTION IS, ARE YOU READY TO GENUINELY RECEIVE IT?
Praise for Taraney's Medicine
"Thank you. Deeply. Soulfully. Cellularly. These calls activated things. Shown light on things. Held me. Make me yell YESSS. Bowing." ~ Dana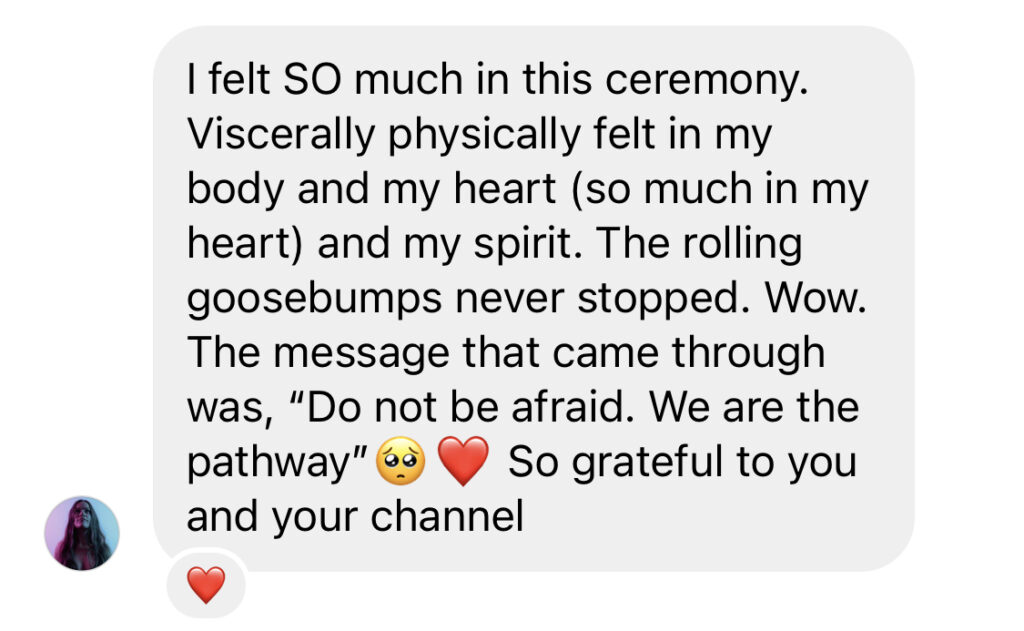 "Taraney is such a gift. She is an incredible teacher, leader, and sister. In working with her, I reached new depths within myself, and walked away feeling lighter and more comfortable within my Temple Body. I highly recommend Taraney to anyone who is looking to dive deeper into their feminine essence, reconnect to their womb, and live life to its fullest potential! She has made a huge impact of my life and every woman who surrounds me now." ~ Lena Rose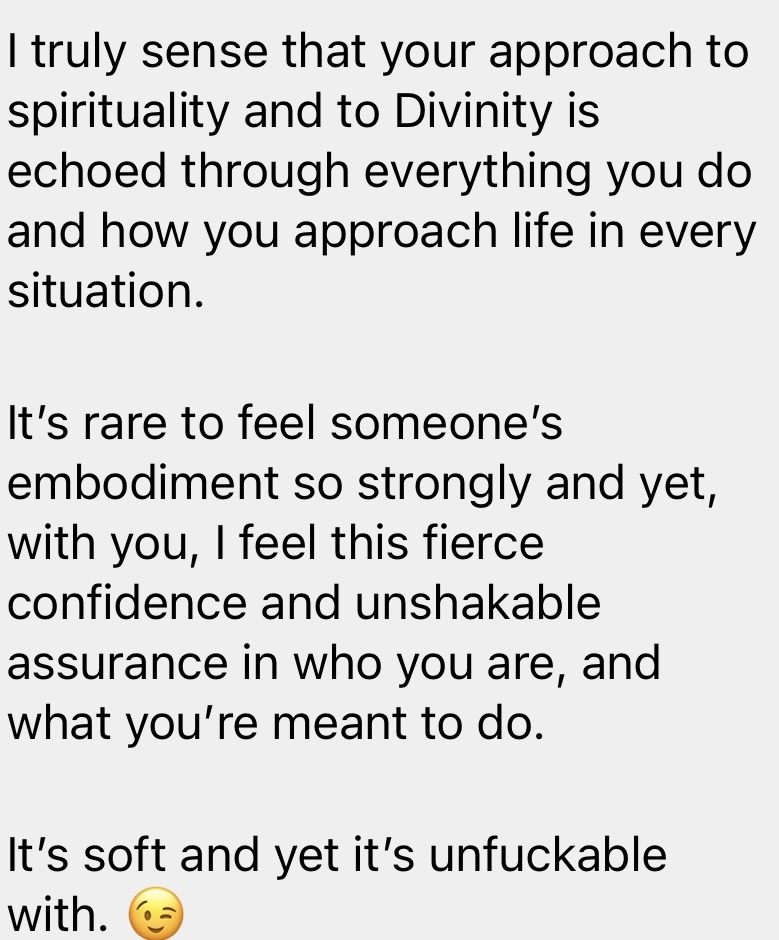 "LOVED connecting with likeminded sisters and honoring where they are at in their journey. Hearing their stories, struggles, and wins made this process feel very human and okay to be exactly where I am at. Felt like I was not longer alone." ~ Nicole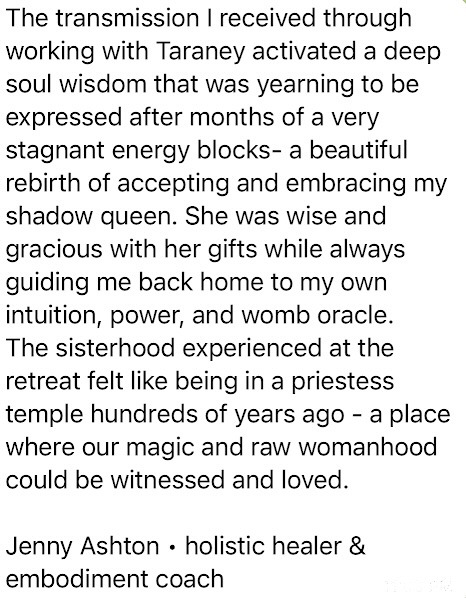 "Being in a container with Taraney is exactly what I think it would feel like to be held in the womb of an actual rose. It is truly unlike an facilitation than I have experienced, and it is a powerful call to come back to your femininity. It is a call to express yourself in a way that feels a little uncomfortable for some of us, and you know that you are so safe in her space."
~ Lauren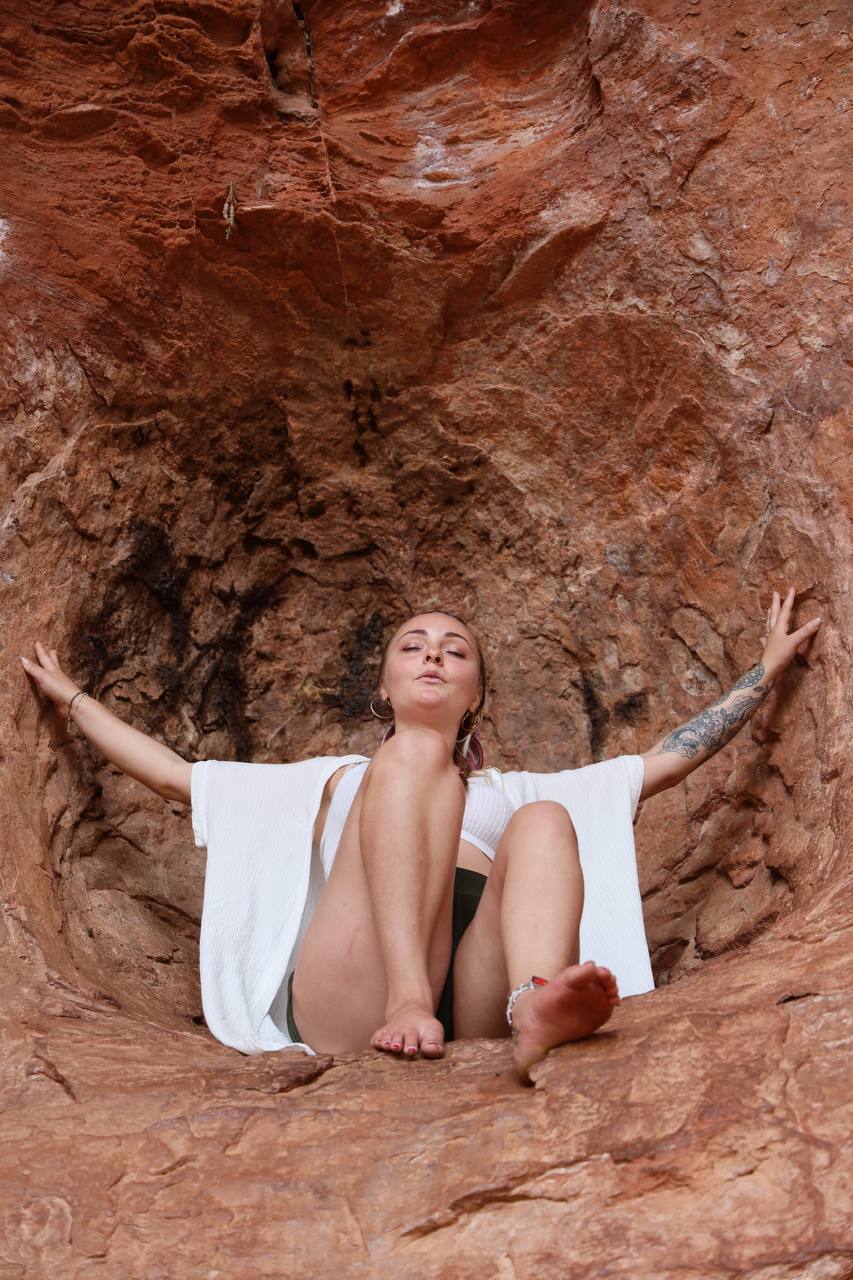 My Name is TARANEY NICOLE
I am a ceremonialist, a sacred sister, a womb healer, & CEO of a multi six-figure soul-lead business. Devotionally, I have walked thousands of women into right-relationship with their bodies + life through simply rising into my role as a Medicine Keeper.
I have walked the full spectrum of this path as a healer, and I am ready to share the wisdom it has taught me because I WANT YOU TO THRIVE WITH ME. Seriously.
That is my desire because I know we need all Medicine Keepers on deck. There is room for all of us, and I know that your gifts are so deeply needed. It is time to fulfill the prophecy.
Ready to join me?
CEO
WOMB PRIESTESS
ENERGY HEALER
FEMININE MENTOR