Sacred Feminine
Mentorship
I hold intimate 1-on-1 containers for women who are desiring to step into their devotional womanhood & sacred femininity.
If you are interested in learning more,
please fill out my application to begin!
Thank you darling,
Taraney Nicole
Sacred Feminine
Mentorship
I am a purpose driven, feminine healing, womb working medicine woman. Devotion, Integrity, and leadership are my core values. I love supporting women in coming into their own power, pleasure, & purpose.  
As a trauma informed somatic healer I love to bridge the world of tantra with somatics to help women transform from the inside – out.
xxx
Taraney Nicole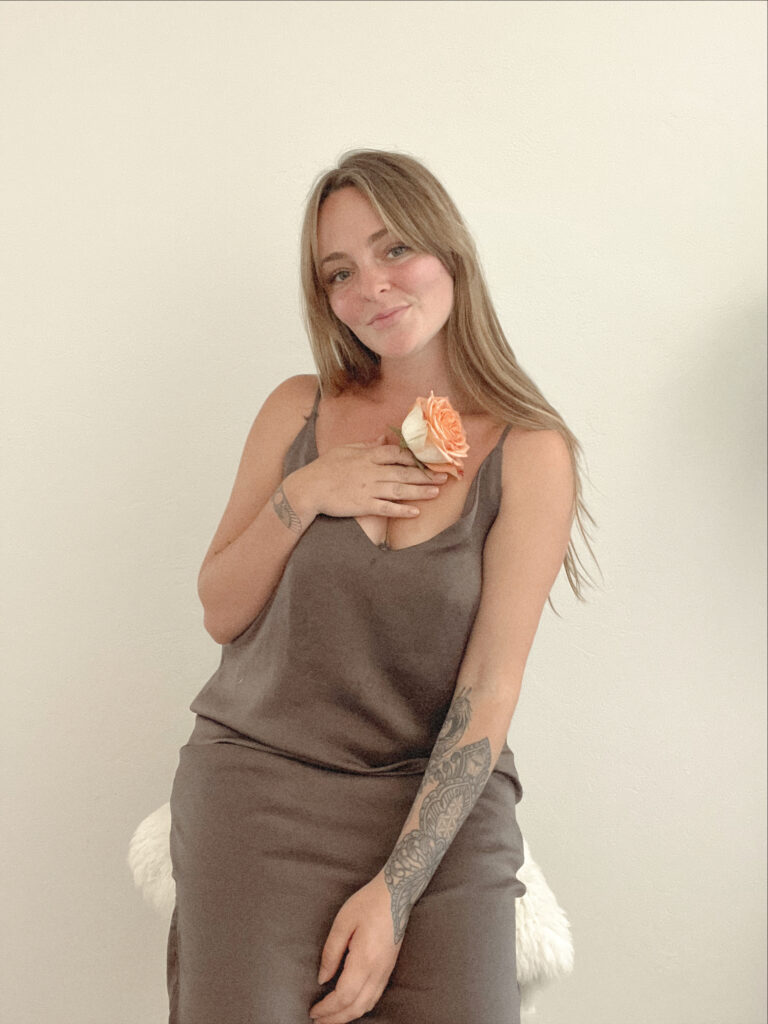 MY 6-MONTH JOURNEY INTO THE WOMB WITH TARANEY
"When I started on this journey I had no real clue as to what I was getting into; what I did know is that I longed for cultivating the divine feminine within me, and Taraney is such an amazing guide through that process. Taraney's gentle, loving presence allowed for my own guidance system and codes to shine through. We reached a level of depth that I honestly did not know was possible, and it gave me a new level of respect for cultivating the womb. The connection and process awoken me to my own womb codes, and they are speaking through me. This has given me a new passion of helping other women feel as amazing in their bodies as I do now. Taraney is extremely gifted. gentle, and loving. Her dedication to helping women is SO evident in her serve, and you can feel the results."
~ SHUBA EACHEMPATI
TRANSFORMATIONAL WORK THAT INSTANTLY IMPACTS YOU FOREVER
"Working with Taraney is a sure way to quantum leap into your healing journey. Ive done working with Taraney, her Medicine Keepers Mastermind, and a 1-1 Mentoring session. I have witnessed first hand the powerful medicine this angel of a woman gives.
She guides with so much grace and gentleness I could not have asked for anyone better to lead me through a session like this, that helped me discover why I am here on Earth and what has been holding me back from embodying my true self. Her feminine leadership really acts as a pillar for her clients growth.
Taraney cares so much about her clients and the people she works with. Her inviting, peaceful energy makes her teaching even more powerful and impactful. You feel invited to fully receive them. It's been days since I did our 1-1 session, and I can still feel my mind expanding from the information she shared. I have been more connected to my feminine expression, I have become confident in who I am and in the decisions I am making. I have gained so much clarity over what I want to do in life, and have been feeling very abundance in my energy and body. My heart is open, my soul is at peace, and I am full of light, love, and faith.
Her work changes me every single time and I am honored to be guided by her. I would invite everyone who has the change to work with Taraney, to do it. She is going to get you where you desire to be. You deserve to be seen, heard, and understood in the exact way that Taraney supports women. Truly transformational work that will touch your soul forever.
~TALA MUHTADI
ORGANIC FEMININE BUSINESS
"The Medicine Keepers Cohort was a beautiful journey for me. It confirmed so much in terms of really allowing space for the uniqueness and magic of my individual medicine that is here to be birthed through me. No other container is like this, that I have experienced. This was a space that didn't follow the step-by-step structure but really opened up to allow the organic unfolding of business to take place. The support resonated for new, as well as seasoned businesses and taught us to deeply trust ourselves. It was empowering and activating.
I am so grateful to have journeyed in this potent space and for the incredible women who has walked with me. Thank you Taraney, for brining such intention and genuine loving care to this journey and for creating a sacred space for us to spread our wings and fly."
~ CHARLOTTE NAYLOR
IT'S ALL IN THE CODES
"There are no words to truly describe the impact Taraney and her teaching has made in my life. It's all in the codes – even between the words. You feel it. Deeply. The healing movement she invited into the body, in the energetics of your being, in the soul – it is absolutely LIFE CHANGING. I have been blessed with her wisdom in the Temple Priestess Art's retreat, Temple of Her – 6 month program, Infinite Wealth masterclass, Medicine Keepers cohort, & so ever single free offering… I am there. I must warn you, her medicine invokes movement in your life. When you say yes to her medicine & sacred work, all that is no longer in alignment in your life will shift instantly. She is a true medicine woman. Anchoring heaven on Earth in our hearts. Angel in human form. Most profound medicine woman I have had the pleasure to receive from.
~ KAYLA DIAMON
WOAH, WOMB HEALING
"I hired Taraney to help me work on reconnecting with my womb. Everything from my feminine energy, pleasure, and power in the world were amplified by her. I have followed Taraney for some time now, and one of the main reasons (among meany) that I felt drawn to work with her, is that she is a survivor of sexual trauma. This made me feel as though I could really trust and surrender to the process, but also her energy was very soothing and made me feel held through our entire session.
I was able to drop in deeper with the meditations and visualizations she invoked. I received upgrades and great healing. I purged a lot emotionally and energetically. Bu the end of the session I felt serene, true calmness, and noticeably lighter.
Now, weeks later I have notices there is more aliveness in my Yoni, actually feeling her desire and turn-on after so many years of feeling shut down. I also feel that it has been easier for me to speak my truth in my partnership where in the past, I found it more challenging. Stumbling over words, stuffing things down, not wanting to cause problems, or be "too much"… it is all gone. I am very grateful for this progress and I am eager to see & feel the continual expansion of this liberation; especially the deepening of my womb connection.
I would highly recommend working with Taraney."
~ MICHELLE MAURER, Karmic Nutrition
THE PAIN WAS JUST SITTING IN ME ALL THESE YEARS, WAITING FOR ME TO FEEL IT ALL
"I feel so lucky to have had my yoni healing session with Taraney.

My experience was deeply, profoundly healing, particularly regarding my still-born birth in 2012.
I was holding onto the trauma, as the tragedy was not 100% experienced as the doctor had put me on a opioid. The pain was sitting in my cervix and as soon as I surrendered into the care of. Taraney's container, I had the most vivid experience of laboring and pushing my baby out. Since our session I have realized that all the pain was just sitting in my body all these years, waiting for me to feel it again. It has now been alchemized into love.
Thank you, Taraney. Your ability to hold such a strong and safe container allowed me to trust myself and you – that whatever was coming up was okay and holly. Bless you.
~NANI CLEM, Embodiment Guide
SHE HAS MADE A HUGE IMPACT OF ME AND THE WOMEN WHO SURROUND ME
"Taraney is such a gift. She is an incredible teacher, leader, and sister. I reached new depths within myself and walked away feeling lighter and more comfortable in my temple body. The shadows that came forward to be healed during this experience allowed me to step forward into a new light. I've learned so much from Taraney, and implementing these lessons into my daily life has been very transformative. I highly recommend Taraney to anyone who is looking to dive deeper into their feminine essence, reconnect to their womb, and to live life to it's fullest potential."
~ LENA ROSE
AN INCREDIBLE REBIRTH CEREMONY
"Taraney is an incredible guide as she holds space in her one on one rebirth ceremonies. We talked, she used her intuitive gifts, and I have a great revelation from her insight, and then we moved into he ceremony. In the ceremony I felt such a release and such a celebration as I was birthed onto the other side of years of pain. Since our session I have felt very real shifts in my business and in my life as I feel like I no longer am expending so much energy warding off like my wombs imprint was telling me to. We completely changed everything. THANK YOU Taraney, I look forward to continue working with you!"
~ JENNA BROWN
FOREVER GRATEFUL FOR HER DEEP WISDOM
"My experience with Taraney was absolutely transformational. The space she help for me was so deeply nourishing, safe, warm, and tender. My session with her cleared out old energy that was not in alignment with my highest path of serve and recalibrated me on every level to birth my offering with clarity and courage. Before our session I was experiencing fear from ancestral trauma and childhood trauma. This was making it hard for me to use my voice and bring my service to the world. She was able to guide me through clearing those sticky imprints, to open deeper spaces within me for my authentic gifts to channel through. Lots of unexpected tears… throughout our entire session I felt like I was being reborn. What she channels is otherworldly. I am forever grateful for her deep wisdom and the work that she does on this Earth. Thank you sister, I love you."
~ CLAUDIA MARIE, Erotic Alchemy
IT IS A MAGICAL AND BEAUTIFUL EXPERIENCE TO RECEIVE FROM TARANEY
"Taraney's medicine spoke directly to me. After deep work on myself, facing shadows and the darkest of valleys, I can now see how everything is falling into place at the right time. This is what it feels like to be liberated into wholeness. My soul has been delighted to receive her wisdom and beautiful codes. The whole experience of our session was magical, she cleanses and opens new spaces within you with gentleness, integrity, love, and an abundance of her medicine."
~KAMILA KOZIARA
TARANEY LITERALLY FEELS LIKE THE WOMB OF A ROSE