a six week tantrik training + high-level course in the Temple Priestess Arts
Allow me to lead you through the temple of your sexual life-force energy.
In the name of deep, metamorphic healing, you will harness your tantrik truth. This Temple is made for wisdom keepers, priestesses, & devoted healers who desire a magnetic shift in the way pain & pleasure work their daily lives. As a Tantrika – a woman who has self-mastered her ability to clear energy & heal her core wounds, this program is designed to breakthrough cycles of suffering & welcome-in the sweetness of liberation. Over the course of 6-weeks we will transcend beyond the veil, harness our center, & become one with the tantrik truth of existence.
Rise beyond your wounds & into the tantrik transformation of a well-healed life
let's walk the path of beauty, ecstasy, & self realization.
These ceremonies are designed to unveil mysteries & further activate tantrik energy in your Temple body. In 1.5 hours our container will offer channeled tantrik philosophy, + TPA embodiment ritual.
Lifetime access to the wealth of brand new content that will guide you to the core of your wound healing + self-realizations. From video lessons, to guided meditations, tantrik practices, & bonus offerings ~ our online course is a codex of pure transformation.
SELF PACED FOR YOUR SELF INITIATION
TANTRIKA WILL TEACH YOU...
1. How to define your core wounds & solve the repeating problems/patters in your life

2. Tantrik practices + rituals to activate, protect, & harness your life-force energy
3. The erotic nature of life & how to break trauma cycles with erotic innocence
4. What the pain + pleasure paradox is & how to evolve into relationship with your emotions
5. How to embody the pure purpose of your life
6. The codex of infinite prosperity + peace that comes when true shadow work is done
7. Somatic therapy rituals to release tragedy from your physical body
How to build the rainbow bridge between your old paradigm & your divinely destined new paradigm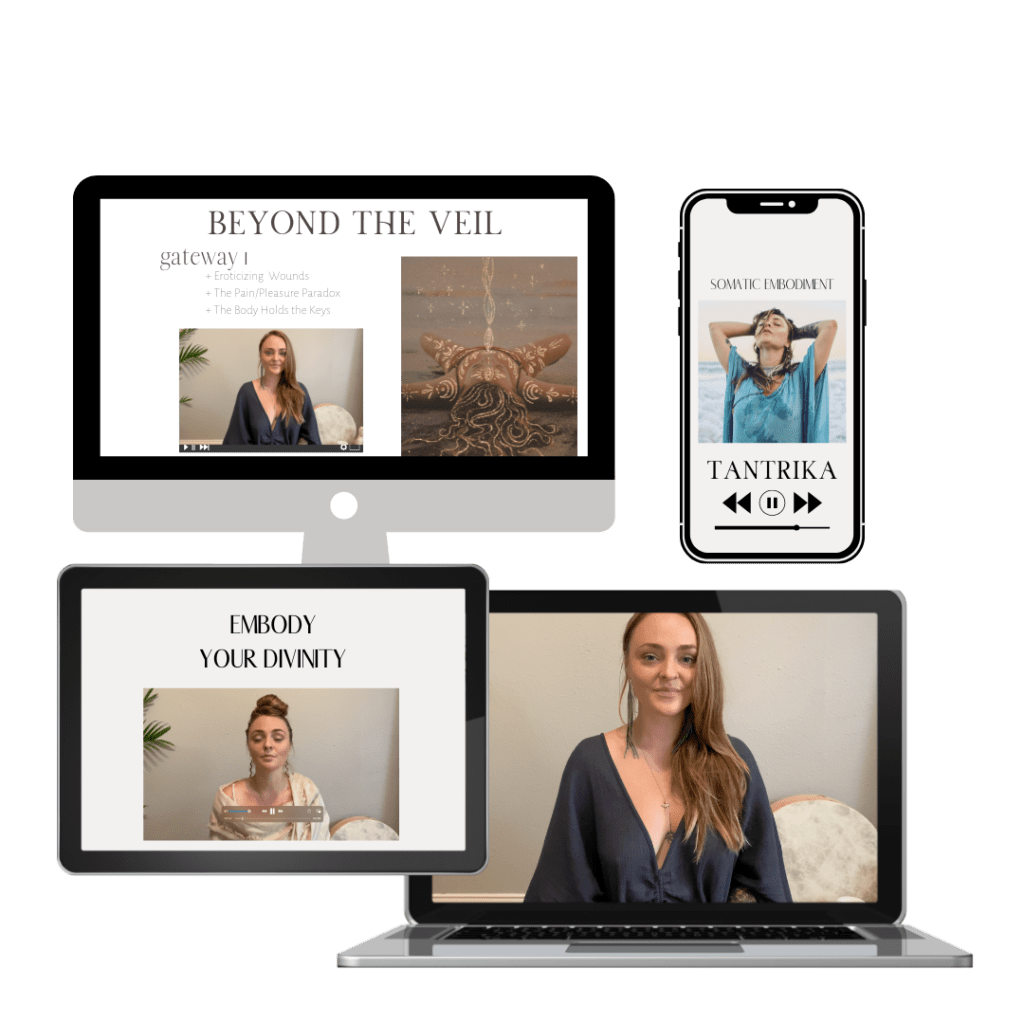 (3) 1.5 hr live transmission's & group ceremonies
(11+) Pre-recorded, unreleased content from Taraney channeled directly from the Divine Mother, Sophia Consciousness.
(4) Somatic Embodiment audio journeys for your tantrik self to emerge
(3) Temple Priestess Arts rituals for tantrik energy to integrate into your body + temple consciousness
(4) Bonus materials to support your divine mystery to emerge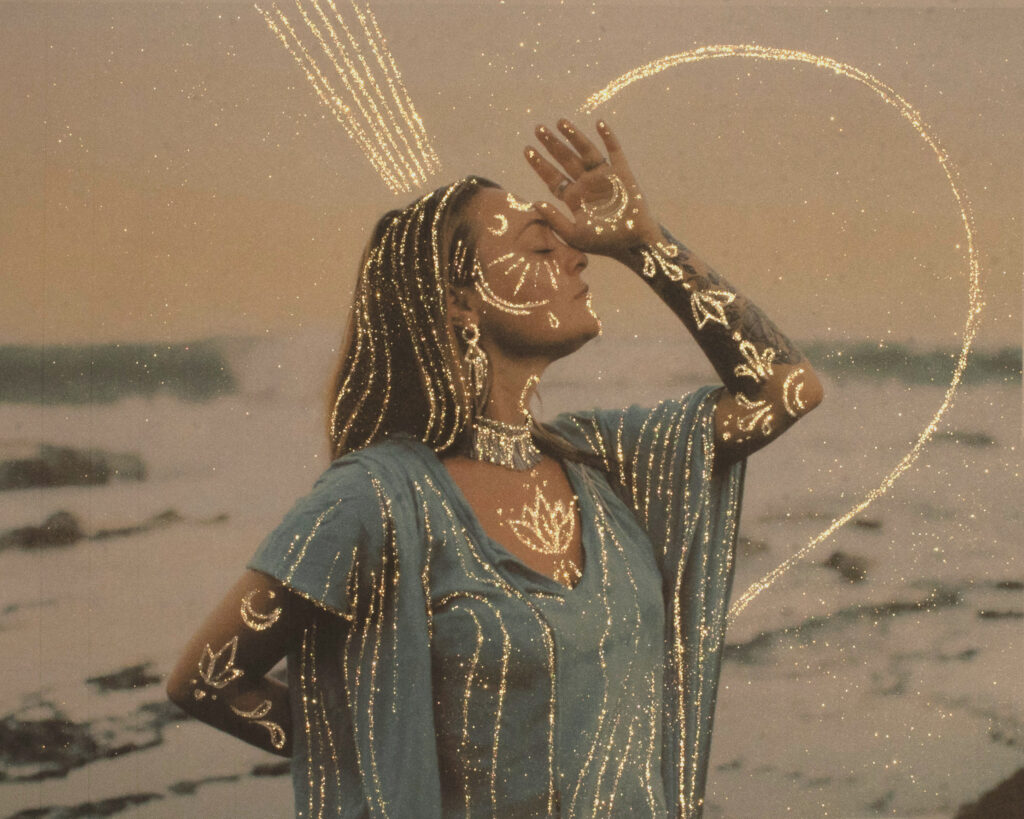 Beloved, from the spirit of your consciousness, to the matter of your being – every aspect of you is created from life-force energy.
A Tantrika is a woman who has cracked the code to her own energy dynamics, so that she can liberate her spirit & magnetize her divine destiny.
This is your birthright. You were made for this experience.
When we master our energy – everything changes.
Our relationships, our money, our quality of life...everything.
THIS IS THE PURPOSE OF TANTRIKA ~ TO LIBERATE YOU
Welcome a new lens of perception & integrate a new level of consciousness around trauma, suffering, & pain. Gain access to your core wounds, discover their erotism, & unlock your own divine paradox
2. Harnessing the Center-point
Shake in a new realm of being by learning tantrik energetics. Body wisdom, paradigm shifts, & true rite's of passage will emerge from within as a new template for your existence.
3. Tantrik Transformation
Anchor the Laws of Transformation into your Temple consciousness. We will dissolve illusions of separation, so that divine rebirth unfurls from the center of your soul-work. Explore the ecstasy of true universal love~
Once you enroll, you ill be initiated into the mysticism of the Tantrika Path.
Beginning Nov. 5th, you will have complete access to our online course & we will have our first live transmission call that afternoon in our private group page. You will have two weeks to move through each gateway before the next one emerges through our group live transmissions. Each gateway holds 3-4 lessons, one guided journey, a Tantrik ritual for you to practice daily, & one bonus gift! Over the course of six weeks we will share our thoughts + transformations in our private group ~ connecting everyone in our tantrik lineage to be witnessed & cherished.
We have 3 live transmissions : Nov. 5th, 19th, & Dec. 3rd at 2 pm cst – you are encouraged to make the live call, & we will have a recording for everyone to enjoy after in our private FB group. each call will be completely unique & orchestrated by the divine mother as she flows through Taraney's channel. This is a ceremony setting for you to be activated through!
At the end of our six-weeks together, everyone will have lifetime access to our online course + the FB group. We recommend coming back to this wealth of knowledge time & time again.