Gateway 1: The Feminine Body as a Sacred Temple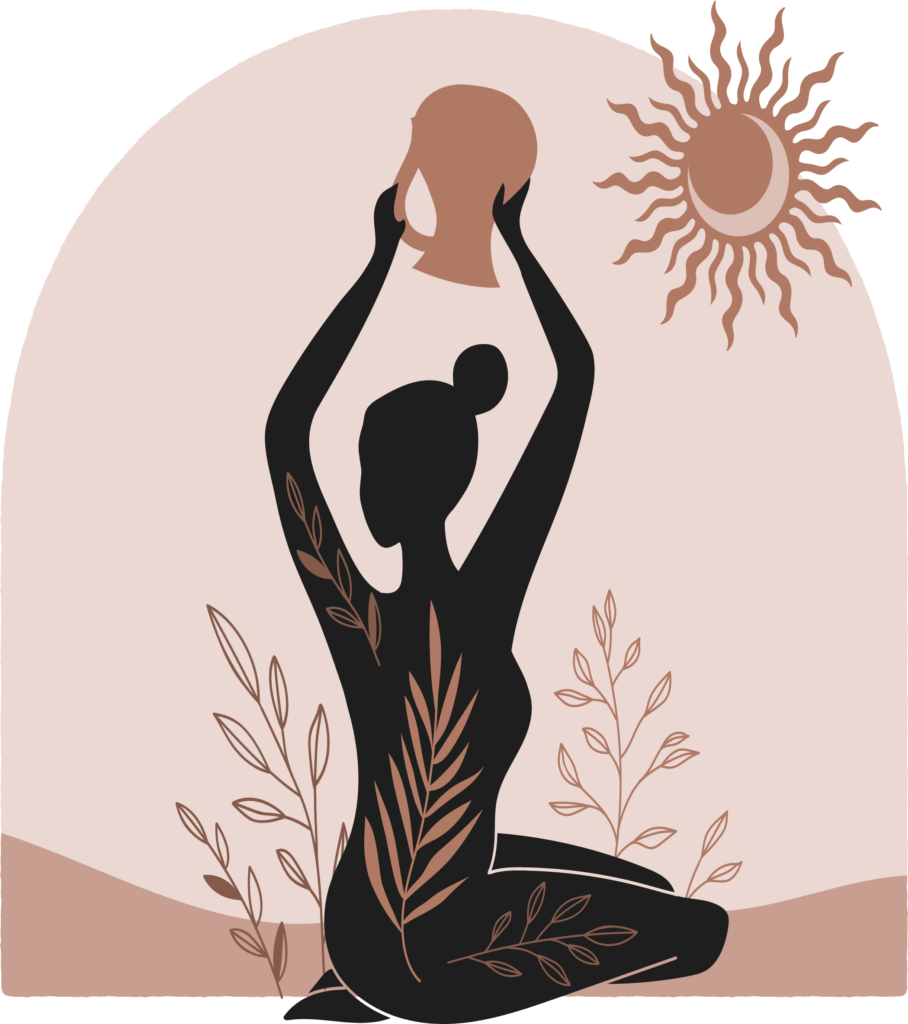 Being woman is a blessing.
Being a woman means you are one with all of nature.
We are all remembering this sacredness – relearning how to honor our bodes as the temples they are.
In the first month of our journey through the Temple of Her, we will be exploring the magic of our bodies, and how perfectly they serve us. We will begin by exploring the cyclical nature of our bodies. Tapping into the four phases of menstruation cycle will support our personal healing & empowerment. The foundation of this months work begins with building our morning & evening rituals. This will allow our Temple to show us how she wishes to be cared for. From here we can fill our vessels with rich wisdom & tender care.
Knowing how to honor our feminine body is the beginning of learning how abundant she is.
The Body as a Sacred Temple E-Book

What is the Womb Space?
The womb as an organ – hollow, potential to hold life, goes through cycles, the vagus nerve connection, ect.
The Yoni – energy center of the womb space
Creating with the womb beyond babies
Intricate relationship women hold with source 
What the womb holds – the good, the bad, and the ugly
Birthing with your Womb Story
The three pivotal moments of our womb story
How your birth connect to the way you give birth in this life 
The magic of your first bleed & how it relieves through you today
Your first time having sex & how it lingers in your present relationships & reactions today
Reclaim Your Womb Story
I encourage you to explore journaling about these foundational experiences in a sacred setting.
Tapping back into them is key in reclaiming your personal power.
Set aside an hour of devotional time for you to write about these experiences. Possibly begin with connection to your inner child and approach this as a ceremony in itself. Burn your smoke medicine, sing your prayers, and know you are supported as you go into this underworld. 
Your Birth Story
– How were you brought into this world, if you dont already know the details, I encourage you to talk to your mother, or other family members to find out the details!
Your First Bleed
– What was this like for you? How did you respond? Go into detail!
Your Virginity 
– Remember this experience and write about how you felt, what took place, and how you think this continues to relive through you today. 
The Feminine Body as a Sacred Temple
How the female body is a living blessing 
Working with our bodies as tools 
Creating beyond the womb space
Reclaiming the beauty of our bodies
Connecting the dots of the Sacred Feminine journey 
Pain, Pleasure, Power = Purpose
A guided journey for reclaiming your Sacred Feminine Power. 
Embody your body.
Listen to the guided journey
How the female body is a living blessing 
Working with our bodies as tools 
Creating beyond the womb space
Reclaiming the beauty of our bodies
Connecting the dots of the Sacred Feminine journey 
Pain, Pleasure, Power = Purpose
Explore your Menstrual Cycle 
Embodying your feminine energy is a whole lot easier when you follow your natural feminine flow. This month, you are invited to begin tracking your cycle, so that you be aware of which phase you are in, and how that impacts your mind, body, & spirit connection. 
In our E-Book for this month, I added a page of the moon cycle + womb cycle chart. I invite you to begin filling this out. Day one is the first day of your bleed, and the last day will end with the day before you begin your bleed. 
Connecting your menstrual cycle with the moon phases directly connects you with nature. When we see this coherence between us & the natural world, all that we have to heal within this space becomes much more supported. Here is a little guide to help you keep this work simple! 
Track your menstrual cycle with the moon 
One day a week, journal about the phase you are in, and how you think it is impacting you mentally, emotionally, physically, and financially.
Practice planning your weeks around your cycle.
Playwork is your opportunity to dig deeper into this magic & explore your body as a sacred temple! 
Playlist of the month :: Rose Codes
This playlist was created from the inspiration of the inherent connection between the women & the rose. Listen to it, dance with it, and allow yourself to be initiated into the sacred feminine path! 
Morning Ritual the first step to cultivating a life of self-honor & respect. When we begin our day by tending to our temples, we are saying to our mind, body, spirit, and the rest of life that we are devoted to putting ourselves first. This doesn't have to be some grand experience, just a daily routine that serves you on a sacred level. Taking 10-30 minutes each morning for meditation, journaling, or even tea ceremony will wildly transform the way you feel in your body. Design it to work for you & give yourself the freedom to change it up when needed. 
Evening Rituals are essential to getting to know your true vibration & keeping up with your purity. I too enjoy my movies at night or other mindless activities, so I want to make it clear that an evening ritual does not mean you have to let that go. An evening ritual is about recalling what you did that day and reclaiming all the different places you may have left pieces of your energy. You can do this after work, as you begin to wind down in the evening, or before bed. An evening ritual can be as simple as sitting down to recall your day through meditation and then practicing some breath-work. You can spice it up with some smoke medicine, journaling, or even working with your favorite crystal. Again, make it work for you.
Commit to practicing your morning & evening rituals for the rest of the month. Do it daily & see how the way you feel about your life changes.
Building Relationship with Your Yoni
Enjoy this Wild Medicine Podcast Episode I did with the Yoni Temple School!
This will be a great guide for you to dig deeper!
You have now completed the Feminine Body as a Sacred Temple gateway!
You are invited to share your Womb Story with our sisterhood if that would support you, as well as any shift you have noticed through practicing the morning & evening ritual. Our Facebook group is where we can take this work deeper & practice the magic of using our voice. When you speak your truth, it gives all of our other sisters to do the same – this is where we can step into our power! I would love to know how this months practices are supporting you, and how we can dig deeper for your personal journey!
Questions to ponder on:
What is my full womb story?
How does my womb work with my daily life?
What is my relationship to my body?
What do I love about her, what have I learned to no love about her?
How can I dig deeper into the medicine of my body?
What am I committing to in order to bring my womb healing?!
Big Love,
Taraney Nicole